Abiding Savior is blessed with dedicated, talented, and caring individuals who support the ministries of our congregation.
Pastor Ryan Brodin, Senior Pastor
Ryan Brodin – x103 – Senior Pastor – pastorryan@abidingsavior.org
Rev. Dr. Ryan Brodin came to Abidi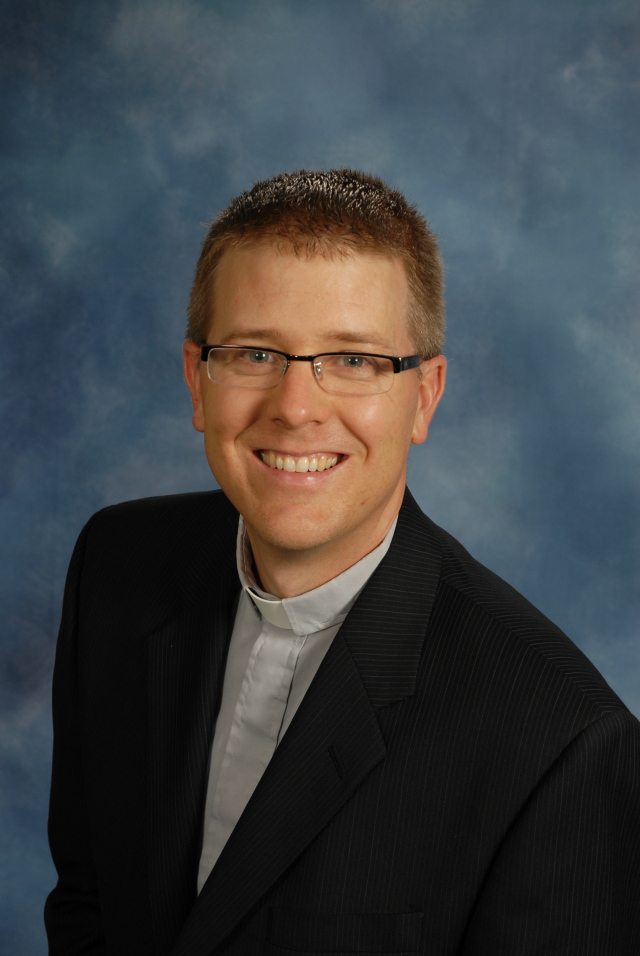 ng Savior in August of 2009. He was born and raised in Anoka, Minnesota, where he was active in Zion Lutheran Church and many school activities including football, tennis, basketball, choir and theater. Pastor Brodin graduated Phi Beta Kappa from Augustana College in Rock Island, Illinois and received his Masters of Divinity from Princeton Theological Seminary in Princeton, New Jersey, and his Doctor of Ministry in Congregational Mission and Leadership from Luther Seminary in St. Paul, Minnesota. He also has received his Certificate in Pastoral Leadership from Augsburg College. Before coming to Abiding Savior Pastor Ryan had served as Co- Pastor of St. Philip's Lutheran Church in Fridley, Minnesota. His wife, Kendra, is Director of Lawyer Talent at Briggs & Morgan Law Firm in Minneapolis. They live in Shoreview with their 2 daughters and their son. Pastor Ryan loves to fish, play golf, cheer on any Minnesota sports team, watch movies and visit family and friends in his free time.
Pastor Lisa Richardson Engen, Associate Pastor
Lisa Richardson – x104 – Associate Pastor – prlisa@abidingsavior.org
Pastor Lisa Richardson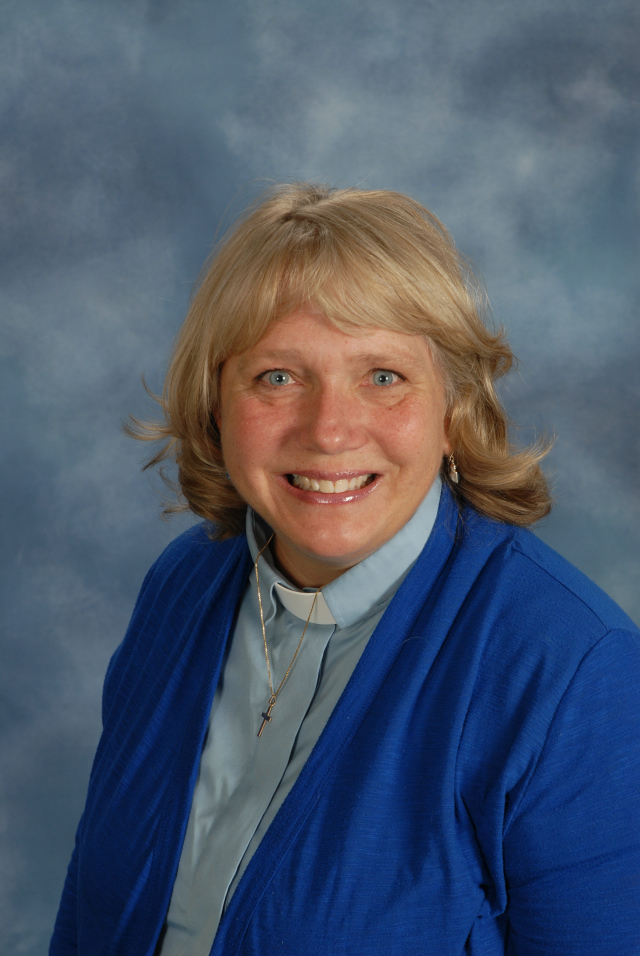 Engen has been the Associate Pastor of Congregational Life and Outreach at Abiding Savior since August of 1998. She grew up in North Minneapolis, in the Camden area and New Brighton. She graduated from Irondale High School. She graduated from St. Olaf College in 1978 and received her Masters of Divinity from Luther Seminary in 1983. She was ordained on September 4, 1983. She spent her internship in Cresco, Iowa. Her first call was at Messiah Lutheran in Sioux Falls, SD. She served at St. Stephen Lutheran in Marshall, MN and congregations in the Twin Cities – Christ the King in New Brighton, University Church of Hope before coming to Abiding Savior.
She is the mother of 4 children, Anna, Maria, Rebecca, and Andy and is married to Gary Engen. She has 8 grandchildren, Sophie, Leif, Shelby, Grace, Lazarus, Addy, Cameron, and Myles. She enjoys being with family and people of all ages, being outside, speaking Norwegian, singing, playing guitar and hockey.
Katie Brouillard, Office Manager
Katie Brouillard – x102 – Office Manager – office@abidingsavior.org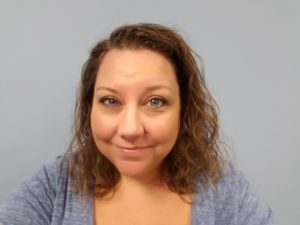 Katie and her family have been members at Abiding Savior Lutheran Church for the past few years, and she is excited to be a part of such a supportive, caring church family!  Katie joined the ASLC staff in February of 2017. Prior to joining our staff, Katie ran a specialty dessert business out of her home in Blaine, and also brings many years of experience in event planning, business administration, and sales experience. Katie attended college at both St. Kate's and Bethel University, studying Business Management. Katie grew up in Osakis, MN, but has lived in Blaine for the past 17 years with her family.  Her husband, Dan, works at Graco, Inc. in Minneapolis and they have three wonderful children: Dylan, Jack, and Taylor.  All three kids are active in church activities & sports, and Katie loves to support them and cheer them on! When Katie is not in the office, you will most likely find her in the stands at a sporting event, cooking meals for her family, baking, reading a book, snuggling with her dog, Chopper, or spending time with family and friends.  During the summer months, she and the family love spending time outdoors, specifically participating in some type of water activity!
Amy Haugen, Office Assistant
Amy Hougen – x101 – Office Assistant – amy@abidingsavior.org
Connie Clausen, Office Assistant
Connie Clausen – x101 – Office Assistant – connie@abidingsavior.org
Intern Deacon Brad Mills, Director of Youth Ministries & Deacon (Word & Service)
Brad Mills – x110 – Director of Youth Ministries – brad@abidingsavior.org or 612.242.7250
Orig
inally from New Brighton, MN, he is excited to work with youth in the same community that he grew up in!  Prior to Abiding Savior, Brad has worked as a Director of Youth Ministry for Our Saviour's Lutheran Church in East Bethel, MN.  He holds two Masters degrees (Theology and Divinity), one from Bethel Seminary and one from Luther Seminary.  When he's not at church, you might find Brad at State Farm Insurance in Edina, out on his canoe, cycling, or maybe out on a walk with his wife, Karen, and their dog. Brad and Karen have three beautiful daughters named Helena, Iva, and Nora who are the love of their lives.  Brad has been at Abiding since the beginning of 2013.  Brad is also on the path to ordination in the ELCA as a Deacon.  He is currently doing his internship that will culminate in the fall of 2020.
Patty Mesenbring, Director of Children's Ministries
Patty Mesenbring – x111 – Children's Ministry Director – patty@abidingsavior.org
My fa
mily was fortunate to discover Abiding Savior in 1998 and are happy to call it our church home.  I am married to Craig and have one daughter, Elise.  Although my background prior to becoming a mother was in medical administration, I began teaching Sunday school and volunteering in children's ministry here in 2001, and found a bright new path. In addition to spending time with your kids, I enjoy reading, writing, writing music, running, crafts and gardening.
Gary Peterson, Choir Director
I am the Se
nior Choir Director, the adult choir and am blessed to work with such a faithful group to praise our Lord through song each week. I work full-time as a General Ledger Accountant at Augustana Care in Minneapolis. I have been married to Jackie since 1982. I have a son, David and his wife Theresa and a daughter Anna. I have been blessed with 4 grandchildren: Emily, Sophia and twins Piper and James. I love playing the keyboard and singing with our contemporary worship band, Reigning Grace. In addition, I enjoy fishing and spending time at the cabin.
Paul Weller, Bell Choir Director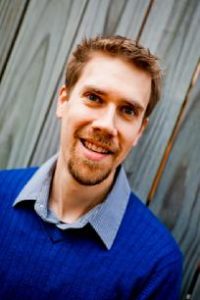 Paul Weller teaches general music to grades 1-5 at Jefferson Elementary School in Blaine, MN. He earned a B.A. from St. Olaf College, M.A. in Education from Saint Mary's University and Orff-Schulwerk certification from University of St. Thomas. He has taught workshops both locally and nationally, serves on the Minnesota Orff and Kodaly boards, is an Orff Schulwerk Level I teacher trainer and has a new book "Ring, Dance, Play" that has just been published by GIA.
Tanna Hoffman, WWJD and Kings Messengers Choirs Director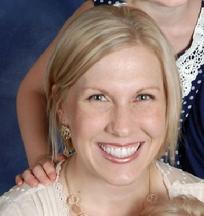 Hello everybody! How do you do? God LOVES YOU today!
What a special message the children sing as we welcome ALL to Children's Choir on Wednesday evenings!! My name is Tanna Hoffman and I have the joy of leading the Children's Choir, Kings Messengers and WWJD each week on Wednesday evenings.
Abiding Savior has been my church home since high school, my husband and I were married here, and we have welcomed three children to our family and to our Abiding Savior family. Abiding Savior is our second home as we are involved in many ministries of the church! I enjoy leading the children weekly in choir; it is such a joy to experience their energy and love for God as we sing God's praises!! In my spare time away from my full-time job as 'home manager', I enjoy volunteering my time to school, enjoy time in the gym, and love socializing with family and friends! Children are such a JOY to me and anyone is welcome to join us in choir throughout the church year!
Janelle Schauer, Organist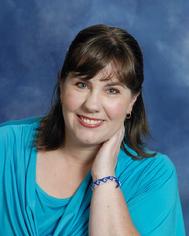 I joined Abiding Savior Staff in 2000 as the organist and choir accompanist. I graduated from the U of M in 1993 with a degree in Music Therapy. Currently, I teach piano from my home music studio. I have lived in the Mounds View/New Brighton area since 1991 with my 3 children and are active members at Abiding Savior.
Janet Wilcox, Parish Nurse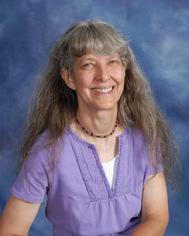 I have attended Spring Lake Park/Abiding Savior Lutheran Church since I was born. This is my second family. I work at University of Minnesota Hospital as a nurse on the Bone Marrow Transplant Unit. I am a volunteer Parish Nurse at Abiding Savior and I truly enjoy the opportunity to share health information with people, answer questions when I can, and assist everyone to live a life that promotes health in mind, body and spirit. In my spare time (what is that?), I love digging in the dirt and enjoying all things that grow in my yard. Sewing, knitting, weaving are good winter activities. Any time is a great time to visit lighthouses, they are a passion with me. I also enjoy my weight lifting exercise while making music with the handbell choir, it's a great way to combine music and exercise.
Steven Hill, Custodian
 
Tracy Nicholls, Preschool Director
Tracy Nicholls – 763-784-5326 – Preschool Director – preschool@abidingsavior.org
I am a former Preschool and Kindergarten teacher and have spent many years teaching and managing classrooms and programs. I am a mother of two and live in the Mounds View community with my two daughters and husband. I enjoy spending time with my family, biking, walking our dogs and just enjoying life. I am so excited to be part this community and look forward to a great future educating your child and giving them a wonderful foundation and Preschool experience.
Sally Richardson, Accountant
Sally Richardson – x112 – Accountant – finance@abidingsavior.org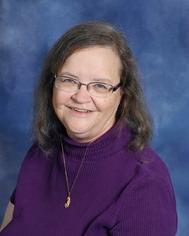 I have been the accountant for Abiding Savior since 2000 maintaining the accounting records and paying most general bills. I was a practicing CPA with a Minneapolis public accounting firm for 35 years and currently do consulting work for non profit organizations. My BA in accounting, economics and mathematics was received from Luther College in Decorah, Iowa. I live in New Brighton and have been a member of Abiding Savior since the mid 1970's. My passions include music with special emphasis on ringing handbells, attending the theater, reading mystery novels and traveling.